Stockport's Giant Leap Project
Stockport's Giant Leap Project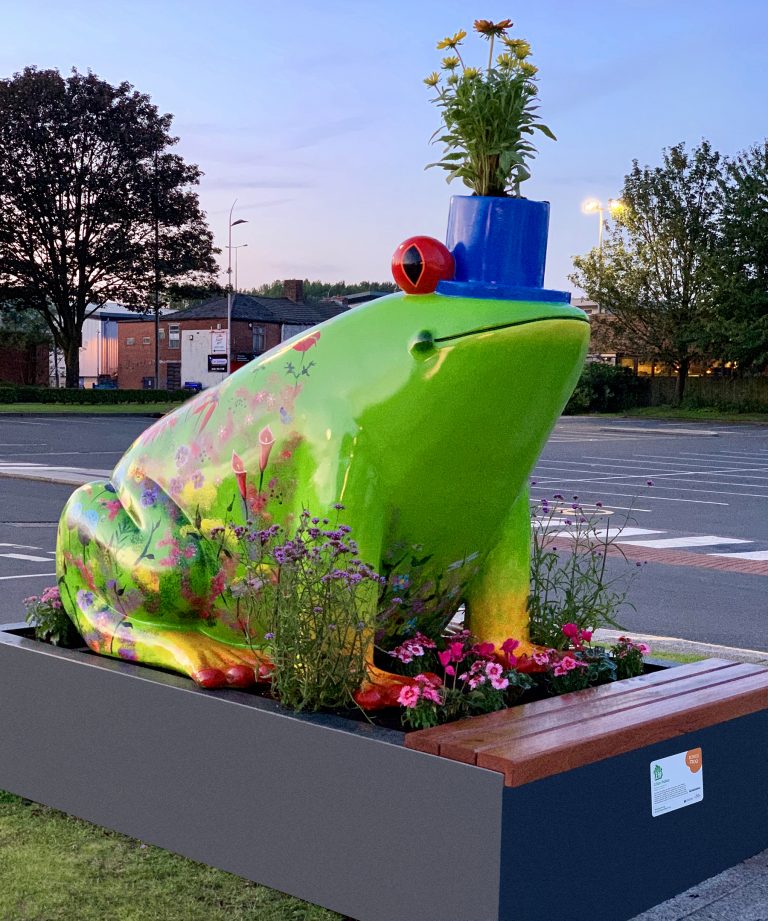 Europlanters are honoured to have been involved in 'Stockport's Giant Leap Forward' project.
Sponsored and made by Europlanters, the giant frog Lillian Phibian sits nearly 2 meters tall in one our planters, surrounded by colourful flowers as part of the "Art Trail Initiative".
Lillian was beautifully painted for us by local award winning artist Lindi Kirwin.
Celebrating Stockport's £1bn regeneration plan, puts Stockport back on the map and creates exciting opportunities for local businesses and residents alike. The project is designed to increase the footfall in the town centre, showcase Stockport itself and make Stockport a destination of choice for visitors. The funding will support children and young adults as they leap into the future.
Nineteen giant frogs and four "bonus" giant frogs were made from GRP. These were designed by local businesses, schools and community groups and painted by local artists.
Sponsored by local businesses, one being ourselves, the frogs have been placed around Stockport creating an attractive, animated outdoor trail around the town centre for people of all ages to explore the town and seek out all the frogs.
The frog was designed wearing a hat, to commemorate Stockport's history of being the centre of the country's hatting industry back in the 1800's.
The launch of Stockport's Giant Leap was attended by Stockport's Mayoress at The Light Cinema on 28th June. Here, the artists and the sponsors were awarded with a mini version of the frog in silver, along with a bottle of limited-edition Stockport gin.
Each of the large frogs, with a carefully chosen name and location on the trail, have also been given a letter. These letters spell out a phrase, and those who complete the trail and the phrase could be in with a chance to win a mini golden frog.
'I have lived in Stockport all my life' said Julie Wilkes Director of Europlanters 'so it is a privilege to be involved in such an exciting project that is not only close to home, but close to my heart. So, come on over to Stockport to visit the frogs and see what this wonderful town has to offer.'
In October the giant frogs will be auctioned for charity to create a Giant Leap legacy fund.
ITV Granada news has covered the Stockport's Giant Leap project, to watch their report, click here.
For more information on Europlanters bespoke products please contact estimating@europlanters.com