The Cloud Gardener at RHS Chelsea 2022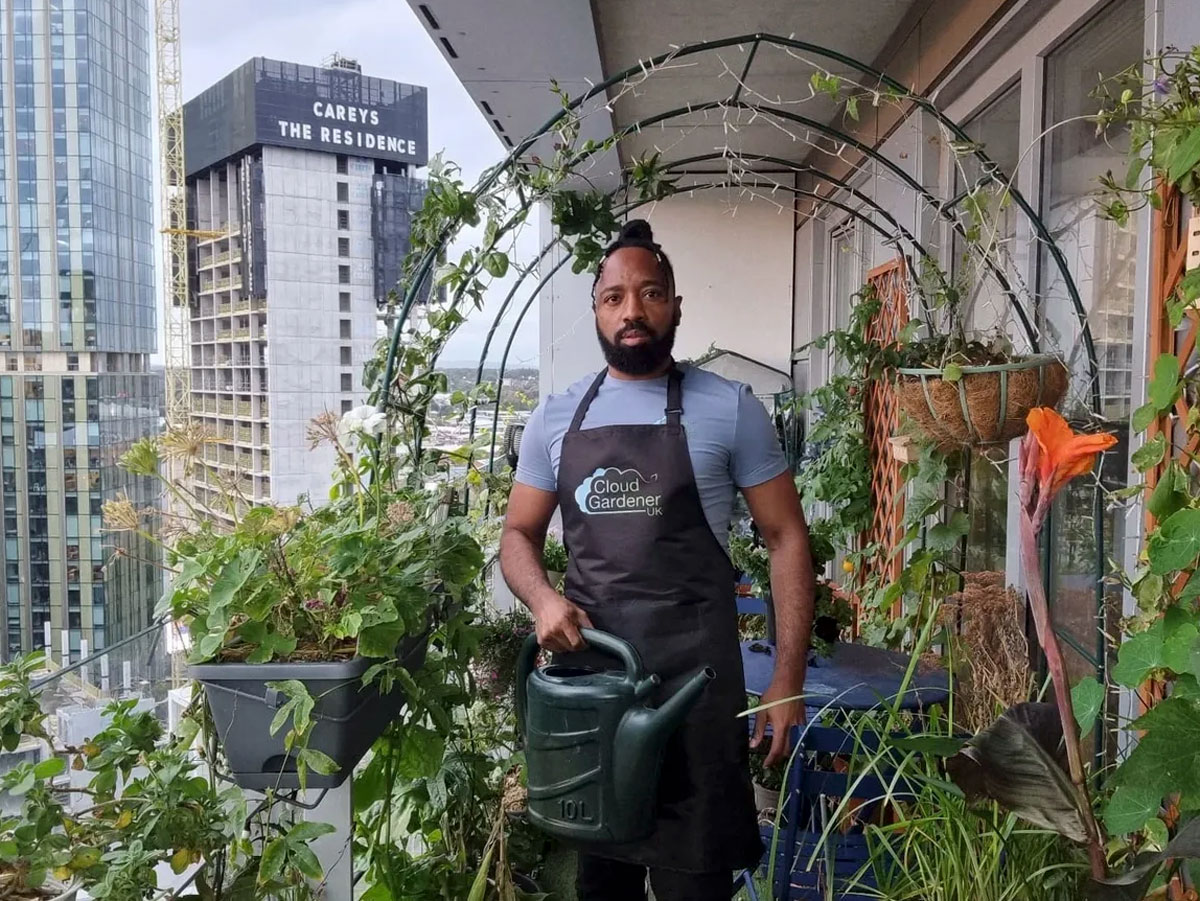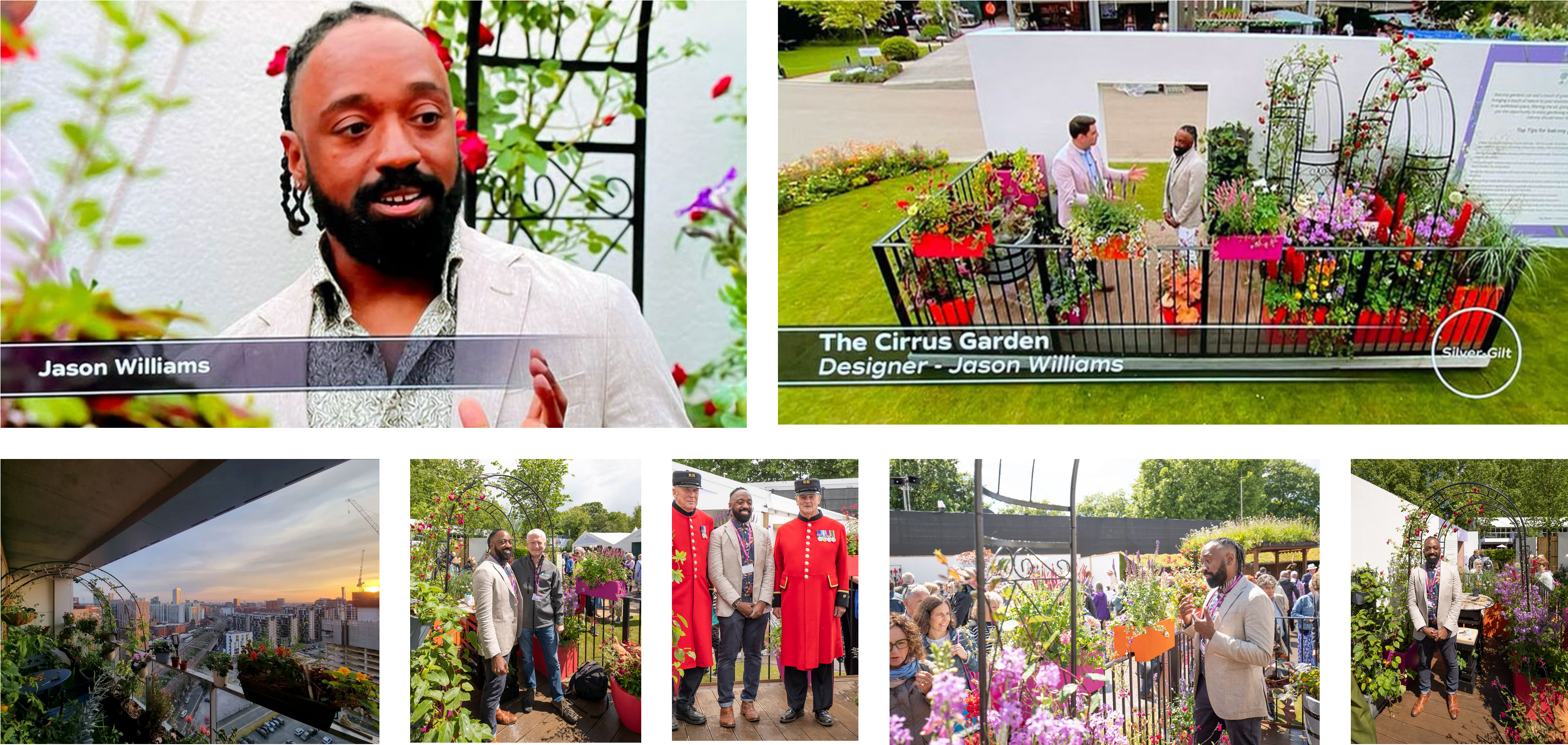 We are all aware that living through the uncertain circumstances of the Covid-19 pandemic, how it affected people's mental health and how social media news feeds created far more anxiety than people needed. However, there have been many research studies to suggest that living within close proximity to green infrastructure is beneficial to mental health and this became even more prominent during lockdown.
Jason Williams, a Manchester former bar manager who was furloughed during the strict home confinement imposed on us all, struggled with his mental health. He had recently moved to a flat on the 18th floor in the city centre and as a distraction to what was going on in the world, he decided to take up gardening to brighten up his balcony. What started with a single marigold soon became a lush urban oasis. When taking day trips walking to the garden centre, he realised just how important the outside space was, and began his happy escape by creating a balcony garden. Tending to his garden helped Jason to deal with his anxiety and depression, by needing to ensure that his plants were fed and watered, giving him a reason to get up in a morning.
Jason spent the following months developing his green fingers and becoming more self-sufficient. Growing food for himself and documenting his journey with YouTube videos, he grew his own fruit and vegetables, converted his household waste into compost as well as using water from his small fishpond as organic fertiliser.
Being on the 18th floor, he soon realised that it is very windy and due to the balcony's glass balustrade on sunny days it can be up to 15 degrees higher in temperature than at ground level. So one of the biggest challenges for Jason was figuring out what plants would thrive on his high-rise balcony. Another mission was, being so high up, there was a need to create his own eco system to aid with the pollination of his plants so he created this by introducing lace wing larvae.
"It's about making the right choices and working out what is going to suit my space. My garden isn't picture perfect. Sometimes things don't go well, it's important to learn from your mistakes.
During lockdown 35-year-old Jason also took time to reflect, he was working circa 70 hours a week and feeling continually worn out. He therefore decided to leave what he felt was a toxic work environment and do something he'd began to love, gardening and so The Cloud Gardener was born.

Two years on in this incredible journey Jason won a place at one of the most famous flower shows in the world, RHS Chelsea Flower Show in the new category small balcony and container gardens.
When he applied for Chelsea Jason stressed that he wanted his show garden to be accessible "to show what can be done in a realistic way". His target audience was "people who would never even think about Chelsea". Hoping that his garden would inspire young, budding designers out there, that it would give them the belief that they too could appear at Chelsea.
Jason designed the award winning, he achieved a Silver Gilt Medal, Cirrus Garden based on his own high rise balcony and he talked to visitors, including HRH The Queen about the various challenges this brings.
The name Cirrus garden was taken from Cirrus clouds which are the highest clouds in our atmosphere. Powered by the wind, cirrus clouds can stretch from one continent to another. They are known to take on reds, yellows and purples during sunrise and sunset.
The Cirrus Garden's colours are based off an image of a sunset seen from The Cloud Garden. The planting scheme consists of a mixture of wildflowers, herbs, salads, vegetables, cut flowers and a fish pond to fertilise the garden. 
The Cirrus Garden is 20 stories high and is South Easterly facing with unobstructed views but suffers from strong easterly winds.
Europlanters worked with Jason to help create his vision of the Cirrus Garden. Manufacturing the bright planters, troughs and window boxes in red, orange and yellow. It was wonderful to see how the colours of the garden popped against the skyline and how the plants made the whole thing come alive, observed John Wilkes on returning from RHS Chelsea Flower Show.
Jason hopes that The Cirrus Garden will act like a beacon of hope to anyone like himself who struggles with mental health, and show them that anything is possible.
Appearing on Gardeners World, BBC News, BBC Breakfast and many other shows nationwide, Jason wants to challenge the idea that black people don't garden, 'We do. You just don't tend to see it on TV, as there is not much representation, especially of young, black males.' said Jason in the hope that this will change in the not-too-distant future. 
We certainly want to see more of Jason and his fabulous enthusiasm for gardening on TV.